At ABLE STORAGE, we provide a FREE TRUCK & DRIVER, to help you move in (subject to availability. For liability purposes, driver does not help load or unload). The pickup address must be within 10 road miles of our location. Even if you elect not to use this service, we will still give you a $20.00 credit towards your account if you choose to rent your own truck and provide us with the receipt upon move-in. Either way, it's a WIN-WIN situation!
Our 16' Isuzu truck is equipped with a LIFTGATE, not a ramp, to make your move even easier! Also included, at no charge, is the use of an appliance dolly and furniture dolly (subject to availability).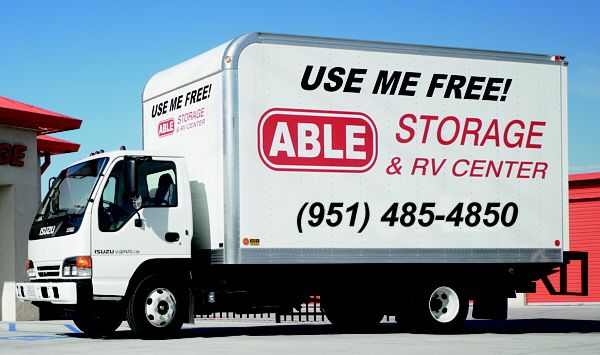 The truck, driver, mileage, and gas are all absolutely FREE! All we ask is that you pay $8.00 to help protect your property from damage due to a vehicle accident while in transit. That's right: A truck, driver, and property protection for a total of $8.00!
And best of all, we don't make you choose between applicable move-in specials or use of the truck. The truck is an option regardless of whether or not you take advantage of a move-in special.
At ABLE STORAGE, we truly want your self storage needs
to be the least stressful part of your move.